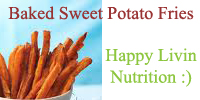 Fond of French fries switch from deep fried conventional French fries to low fat baked sweet potato French fries
Total Time: 30-40 minutes
Serves: 4
Ingredients:
1 tablespoon (tbsp) olive oil and 1/2 tbsp sesame oil (mix both oil)
1/2 tsp paprika (optional)
4 medium sized sweet potatoes - peeled and sliced in long 1/4 inch wide strips and 1/2 inch long slices.
For seasoning:
1 tea spoon (tsp) salt
1/2 tsp black pepper
1/2 tsp garlic paste (optional)
1/2 tsp Rock salt
1/4 tsp sugar powder
Mix all the above ingredients
Procedure:
Pre heat oven to 450 degrees F.
Place a bakery paper (parchment paper) in a oven tray.
Toss the sweet potatoes in a large bowl with the olive oil and sesame oil.
Sprinkle the seasoning mixture and paprika over the sweet potato.
Spread sweet potato in the oven tray; make sure it is spread in a single layer.
Occasionally turn the sweet potato and bake till it is golden brown in color.
The baking process would take about 14-20 minutes.
Serve warm.
Tentative Nutrition content per serving
Calories: 246
Carbs: 41
Fat: 8 gm
Saturated fat: 0.7 gm
Proteins: 3 gm
Sodium: 1000 mg
Cholesterol: 0gm
Sugar: 10 gm
Fiber: 10 gm